True Time Racing Services understands race director's needs and wants. We aim to provide accurate, timely, and professional results to our clients in all sports and utilize the most advanced hardware and software available. We work around our clients' needs not vice versa. We also strive to provide experience, addition services, and equipment to make our race directors' jobs easier and add a level of professionalism to their events.

Standard Services Included in All Events
Live results to the web
Instant display of results on flat screen monitors we provide
Reusable and disposable timing chips
Pre-race data processing
Results display by event, gender, or age group
On site internet connection
Results posted to our website on race day
Printed results for awards ceremony
PA System for finish line music, race announcements and award ceremony
We provide our own tents, generators, tables and chairs
Additional Timing Services
Finish Line Video
Finisher Certificates with your race and sponsor logos
Post-race Facebook post to your athlete's walls with your logo
2-3 Minute Race Video capturing the fun atmosphere of your race
Race Announcer services to keep your finish line fun and energetic
Big screen/large format results capability (example: football stadium big screen)
Receipt style printed results for each athlete
Additional Services and Equipment
Race Announcer Information
We provide an iPad or laptop connected to the timing mat so you can welcome your athletes at the finish line. We can also display 'announcer data' on this screen for your race announcers which will make the finish personal for all your athletes.
Starting Line
We can collect a chip start time for all your athletes as opposed to a 'gun time' which gives everyone has the same start time.
Inflatable Arch
Need an inflatable arch to spruce up your finish line? We got your covered! We have two finish arches which span 15 feet and 25 feet. The 15 foot wide arch can be customized with your own race banners/logos so you can have an arch which is branded for your race and your sponsors. The top banner area is 10 feet wide by 4 feet tall and side banners can be 30 inches wide by 60 inches tall. The inflatable arch creates an exciting atmosphere at the finish line. Athletes and spectators enjoy getting pictures with the finish arch.
Finish Line Video
We can capture those final paces at the finish line for each racer to view after the race with their results. Each participant can see a personalized 30 sec video of themselves crossing the finish line.
Splits
Need a split time at the half way point, a 'cheat check', or additional split times? We can provide all of that information. Providing a split time can decrease the concerns about people following the course correctly. We can set it up as a half way point, a 'cheat check', or additional split times. Racers often enjoy being able to check their pace and see their progress.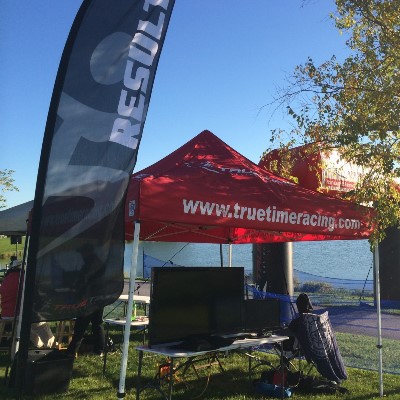 Race Equipment
We have a variety of equipment that can make your race complete and run smoothly. Vertical flags, tents, tables, cones, PA systems, bike racks, digital display clocks, water jugs, race numbers, swim caps, we have it! Just let us know what you need for your race and we will make it happen.
Equipment list
Vertical flags 14 feet tall (parking, registration, volunteers check-in, medical, etc…)
iPod with play list
PA Systems (powered) with microphone and cables to play music
Inflatable finish arches
Generators
Sign-a-cades accepting signs 2ft x 2ft & 2ft x 1ft
GPS to measure course or measuring wheel
American flag and national anthem (iPod & iPhone)
Tables 6ft & 8ft
Tents 12 x 12 and 10x10
Bike racks (6-8 per rack)
Swimming buoys 5.5 feet tall in orange, red, and green
Swimming buoys 2ft diameter circular in red and yellow
Swim buoy anchors 30+
Finish line/split digital display clocks
Water Jugs 5, 7.5, and 10 gallons
Fence posts
1500ft + of fencing material (blue)
Orange Safety vests
Orange Safety flags
Caution tape, zip ties, and rope